Happy Styling
Each Kit is designed to layer on top of your existing canvas and elevate it with ease —
so feel free to get all items (or just a few) and mix & match to your desire.
Kit Features
Showing off some of our specially-sourced Kit favorites, each with its own story.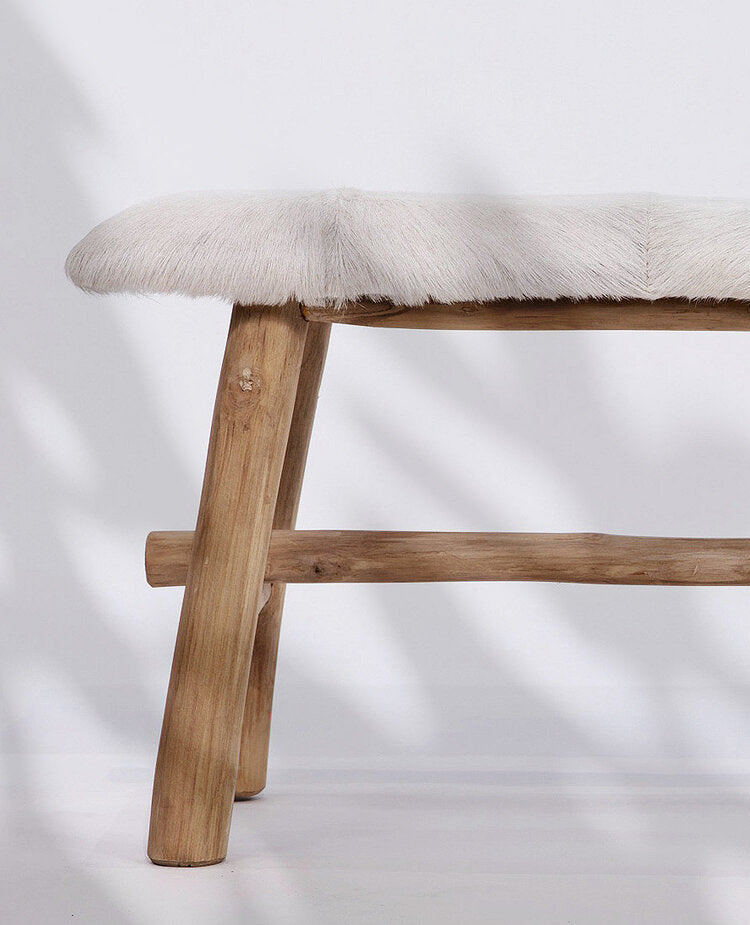 Aksel Fur Bench
Petite in size but big in style, this bench is perfect for compact entryways thanks to its slender profile and airy disposition. Crafted in India, its natural wood legs take organic shape to support a sleek goat fur upholstered top. The fur is silky-soft and varies in tones from all-white to white with a little brown due to natural hide variations. The Aksel comes pre-assembled, so you don't have to lift a finger. It styles beautifully with our stacked kilim pillow duo, and you can even drape the Turkish towel off the edge for added flair.
Turkish Towel
Also called Peshtemal, Turkish towels are made from 100% Turkish cotton—the highest quality cotton in the world. These longer cotton fibers are hand-woven on looms in Istanbul and produce a stronger, smoother thread that is both lightweight and super absorbent, making for a much quicker dry than your traditional cotton terry towel. An added bonus: this unique, premium material actually becomes softer and fluffier after every wash. This towel is extremely versatile for both bath and beach but of course, we opted to use it as decor. Drape it over a wall hook, dangle it off the bench or toss it over the basket—there's no wrong way to style it.
Pampas Grass
Hand-foraged in the Bay Area, pampas are lightweight reeds with beautiful feather-like plumes. Each pampas bunch has been air-dried upside down to preserve its delicate feathers, and sprayed to preserve its natural shape. The ones in your kit vary from 4-7 ft tall and should be placed on either side of the Aksel. They've been hand-selected and trimmed for height and width to create the perfect framing for your entryway. We've also included some fishing line to unite the stems so you can adjust the spread of the plumes to your liking.
Looking for more design support?
From specialty sourcing to color and material selections to layout logistics, our team of experienced interior designers is ready to make your design dream a reality.