Happy Styling
Each Kit is designed to layer on top of your existing canvas and elevate it with ease —
so feel free to get all items (or just a few) and mix & match to your desire.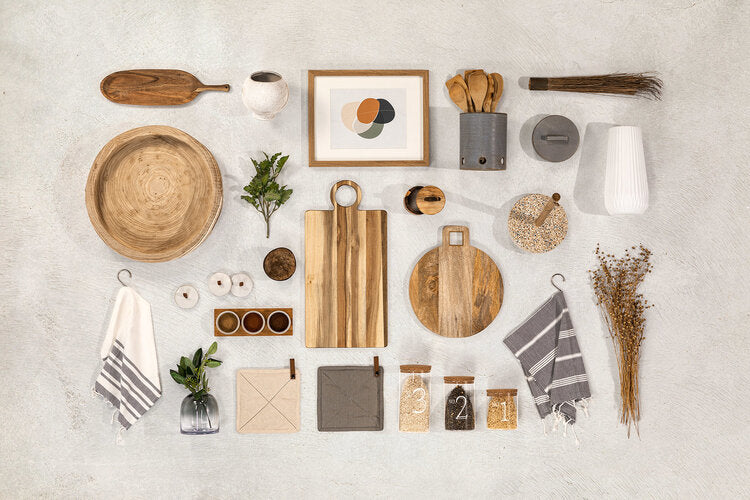 Kit Features
Showing off some of our specially-sourced Kit favorites, each with its own story.
Raw Edge Bowl
Large and in charge, this hand-carved Paulownia wood bowl creates the ideal home for all your produce storage needs while effortlessly dressing up any countertop. Thanks to its deep edge, you can pile it high with all the avocados your heart desires (our hearts tend to desire a lot). And an added bonus: its naturally uneven base allows it to rotate like a lazy Susan—making grab-and-go mornings a breeze. Isn't it great when beauty meets utility? Because of its hand-crafted nature, each bowl varies slightly in size and color, making no two beauties exactly alike.
The Stack
The IW cutting board stack is layered with warm Acacia and Mango wood that vary in size and shape to create depth and dimension. And each handle is uniquely crafted for added design intrigue. This triple threat gets even better when paired with our beautiful all-natural handmade coconut bowl from Sri Lanka—which just so happens to be the perfect crumb catcher. Position the stack horizontally or vertically—or mix and match. Add a vase or the Hari Broom for extra oomph and enjoy how all elements harmoniously balance together like a work of art..
Bodrum Art
We love how these soft, muted tones and organic shapes complement any kitchen space and calm down even the craziest of cooking days. Commissioned specifically for this kit, the Bodrum comes assembled in a thin wood frame with an off-white mat. It's designed to rest horizontally against your countertop backsplash, propped up by any accent piece of your choosing. If you don't want to spare any countertop space, we've also included 3M strips so it can hang along any open kitchen wall – looking especially stylish when slightly overlapped with our tall white fluted vase and dried flax foliage.
Looking for more design support?
From specialty sourcing to color and material selections to layout logistics, our team of experienced interior designers is ready to make your design dream a reality.