Happy Styling
Each Kit is designed to layer on top of your existing canvas and elevate it with ease —
so feel free to get all items (or just a few) and mix & match to your desire.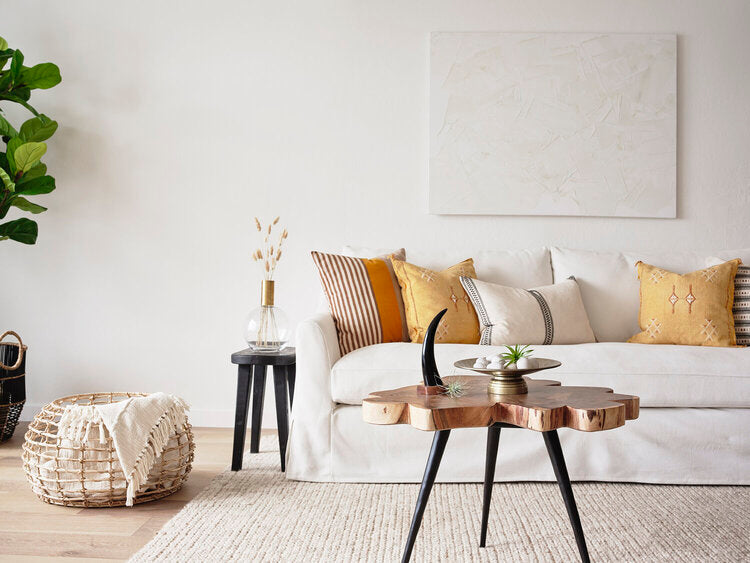 Kit Features
Showing off some of our specially-sourced Kit favorites, each with its own story.
Ankole Horn
In collaboration with our artisan partners in Uganda, IW-designed this Ankole horn to contour the Canto bubble vase, making for an oh-so elegant coffee table centerpiece. Each tabletop horn has been created through heat and hand-molding and varies naturally in color from light brown to black, allowing for a truly one-of-a-kind look. The horn is sustainably sourced and ethically farmed from the native Ankole-Watusi cattle, which are characterized by their very large horns. Our artisan colleagues partner closely with organizations like Kering and the Humane Society to ensure that both the cattle and ranchers have the best quality of life possible.
Cactus Silk
Our Cactus Silk pillows hail from the Atlas Mountains of Morocco where the textile is handmade on looms and the design is inspired by Andalusian decoration. Through time-worn Moroccan methods, small fiber-like strands from the leaves of agave plants are extracted and hand-spun to create a strong, silky thread known as "Cactus Silk." The Cactus Silk is dyed using all-natural vegetable washes before drying under the Moroccan sun to achieve its distinct subdued hue. Thanks to several weeks of handcrafted perfection, these sun-kissed organic looms are ready to take center stage in front of each Mexi textile.
Mexi Textis
These beautiful Mexican textiles are loomed by indigenous artists and craftspersons in the Southern and Southeastern regions of Mexico. They're made 100% from our raw earth using a combination of plants, mud, stones, insects, rainwater, and the heat of the sun to create every detail from the weave to the distinct coloring—each taking up to several months to complete. These textiles layer beautifully behind the Cactus Silk while the Leh lumbar pairs flawlessly with either line-up. Toss in the throw for added texture or break up the combos to style across multiple pieces of furniture.
Looking for more design support?
From specialty sourcing to color and material selections to layout logistics, our team of experienced interior designers is ready to make your design dream a reality.