Happy Styling
Each Kit is designed to layer on top of your existing canvas and elevate it with ease —
so feel free to get all items (or just a few) and mix & match to your desire.
Kit Features
Showing off some of our specially-sourced Kit favorites, each with its own story.
Pedestal Stack
This salvaged Lito wood pedestal takes an otherwise flat shelf surface to new heights. It's the perfect platform for all your favorite accent pieces – whether they be from this kit, or items you already have at home (framed pictures, traveling trinkets, etc.). We opted to layer in the Pico stoneware bowl and Tuca horn calligraphy brush, but this pedestal brings so much charm and character on its own that even a small air plant or two would do just the trick. Each pedestal varies in size and color, but all bring an equal amount of warmth and elevation to any empty shelf.
Woven Seagrass
Designed to be the center of attention, this round basket is made from natural seagrass, laced with pops of color, and decorated with an arrangement of black beads. We've included a small brass easel to prop it upright – which helps it catch your eye even from all the way across the room. We chose to layer in the air plant from this kit to give it a little burst of greenery. You can also add another mini for extra dimension – or you can keep this beauty bare, too. Choose-your-own-adventure when placing the other styling bits and pieces around it — with the Ovo basket as the focal point, you can't go wrong.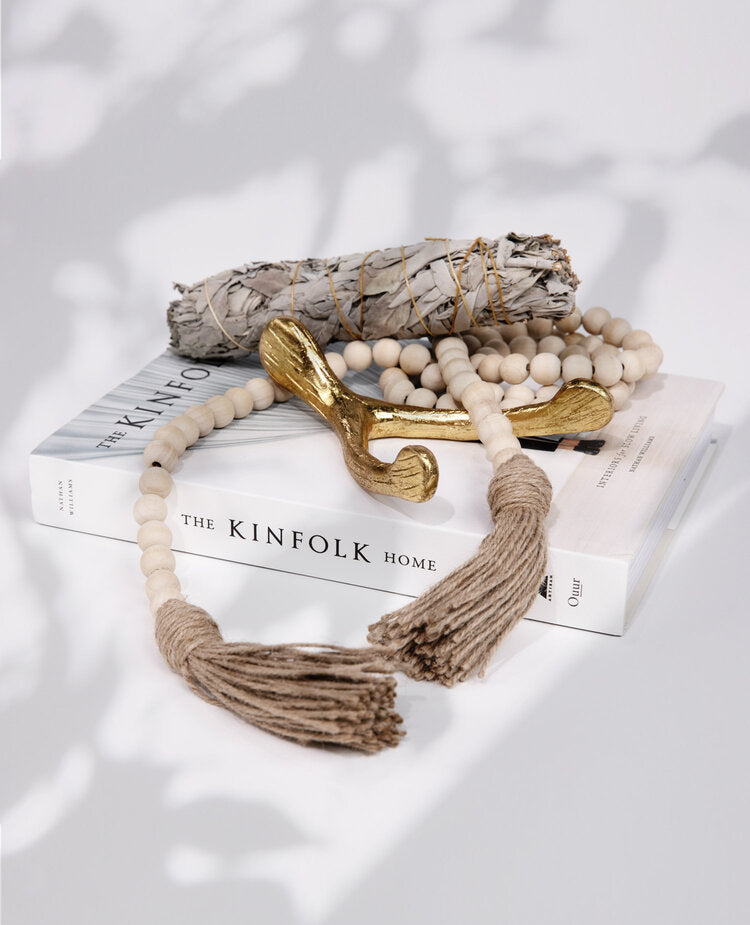 Kinfolk Layers
This book makes for yet another great DIY, mix-and-match styling base – and who doesn't love a good Kinfolk? We layered in items like the Briza wishbone and wood beaded garland, but this white-bound book looks just as beautiful topped with a small brass planter and smudge stick. You can even style it in an upright position, wedged between the Kino basketweave bottle and a brass planter – make it personal by sliding in a few books of your own. And, if you're ever in need of a little design inspo, just flip through the pages – you may find a few more book-styling ideas.
Looking for more design support?
From specialty sourcing to color and material selections to layout logistics, our team of experienced interior designers is ready to make your design dream a reality.