Happy Styling
Each Kit is designed to layer on top of your existing canvas and elevate it with ease —
so feel free to get all items (or just a few) and mix & match to your desire.
Kit Features
Showing off some of our specially-sourced Kit favorites, each with its own story.
Ankole Horn
In partnership with our master artisans in Uganda, IW-designed a line of unique serveware made from sustainably sourced white Ankole-Watusi horn. Crafted through heat and hand-molding, each kit contains a 4-piece hexagon coaster set, petite serving dish and a show-stopping wine chiller—which can also double as a table vase when not in use. Reminiscent of porcelain or marble, yet lighter than wood – and sturdy as stone, Ankole horn is also naturally non-toxic and hypoallergenic, making these all food-safe. Colors vary from item to item with shades of yellow, gray and ivory—all gorgeous together thanks to the horn's natural beauty.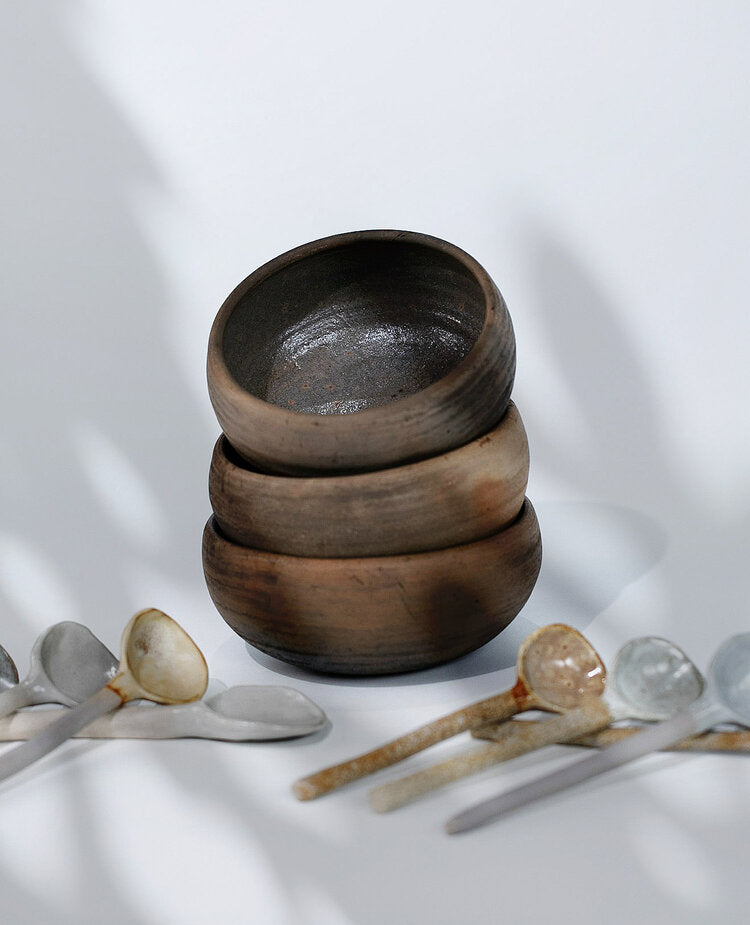 Smoked Clay
Every bowl and spoon has been handmade from start to finish in Oaxaca, Mexico. Each clay bowl is crafted using a hand-spun wheel and a wood-burning kiln. To achieve the unique, smoky color, more natural resin and wood is added to the fire. The Kit includes a trio of spoons that have been hand-formed with clay, carved, sanded into shape, and then high-fired (twice!) to maximize strength and durability. The trio includes two gray glazed handles and one natural handle. All are food-safe, making them perfect for your favorite dips and snacks.
Acacia Paddle
While cheese looks good on everything, it looks especially delicious when arranged atop this beautiful wood paddle. Handcrafted in Seattle and stained with a food-safe finish, this extra-long 27'' acacia board is the perfect canvas for sharing and snacking on your favorite charcuterie or tapas. Place a stoneware ramekin or two on top to enjoy condiment pairings, and don't forget to layer in the smoked clay spoon for serving. Thanks to its natural roots, each wood grain varies in color from deep brown to oatmeal – making no two alike.
Looking for more design support?
From specialty sourcing to color and material selections to layout logistics, our team of experienced interior designers is ready to make your design dream a reality.